NeuroMac WinterSchool 2022 in Copenhagen
After the NeuroMac School students gave an impressive poster presentation of their current project results to renowned scientists at the International Novo Nordisk Prize Symposium in Copenhagen, this year's WinterSchool 2022 took place one day later (18.09.2022) on the topic: "Further prospective work". Besides the scientific talks of the NeuroMac School students, there was a fruitful exchange of thoughts and impulses of new ideas for the coming year.
Many thanks to all!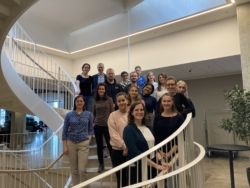 For more information, do follow us on Twitter!